Best American Model Railroads
Everyone loves great model trains. HO scale model trains are very popular and folks are always eager to view incredible and innovative model train layouts. In this post, we would like to feature few great model train layout images by which you can get a lot of inspiration and these images will help you for sure to develop great model train layouts. Please have a look of these images and let us know how exactly these images helped you to built great model train layouts.
Realistic Model Train Layout
This model train layout is very realistic and have a lot of features which are essential for a great model train layout.
Awesome Locomotive
Locomotives are center of attraction and is also a key component of any model train layout. The model trains must have attractive and strong locomotives.
Amazing Scenery
The cowboy in this scenery looks so great. Natural scenery model trains are the most popular model trains and these are always helps to attract the viewers. All you need is the correct combination of accessories which are must of any natural scenery model train layout.
Realistic Model Trains
Have a look of this great image featuring stone crushing scenery. This is so realistic so all the accessories used in this layout are capable enough to give it an amazing realistic look.
Bridges and Rivers
This is a WOW shot! Have a look of the river, it is so realistic and beautiful. These accessories adds stars to the natural scenery model trains. So never hesitate to use anything innovative on your model train layout.
Strong Bridge
The bridge used in this layout is simply awesome. The bridges are usually used to give a natural look to the model train layout.
Realistic Locomotives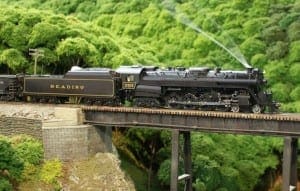 Just have a look of this great model train locomotive. I am speechless…. 🙂
Mountains
This model train image is so realistic. Have a look and judge yourself.
Under Construction Layout
This image is featuring an under construction building which is been constructed by the material supplied by this powerful model train. 🙂
Classic Locomotives
Classic locomotives are also one of the best locomotives which are widely used worldwide.
We hope you all liked these great model train images. Please do not forget to leave your valuable suggestions for the betterment of posts as well as website.