Model train water scenery has grown to become a staple of many of the winning model railroad layouts at exhibition events. The contrast between beautiful mountains split by a beautiful river stream or even dock water scenery tends to add so much character to any model train layout.
Here is 7 magnificent model train water scenery that can help provide ideas for your own layout.
5 Tips to Avoid Derailments, Erratic Stops and Costly Building Mistakes
Beginners Getting Started Guide
The ONLY Two Things EVERY Model Train Beginner Must Know..!
Choosing the Right Scale with Limited Space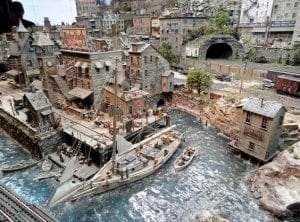 The ONLY Time Tested Way to Lay Model Railroad Track
Installing Model Train Buildings and Roads
Model Train Layout Sharing w/ Grandkids (Open Letter)
How to Build Model Train Hills & Trees Perfectly Every Time