Here's a compilation of top rated model railroad layouts for beginners and intermediate model railroaders. From N scale to HO scale and even O Scale, we'll cover the best rated photos submitted by visitors like you!
We've reviewed the best-rated photos provided by visitors just like you, ranging from N scale to HO scale and even O scale! Let's begin…
Z scale model railroad layouts are becoming more popular due to their small size, which makes them appealing to those with limited space.
Here, the owner has set a Zig-zag-shaped Z scale layout within a lush green landscape with pine trees that houses six properties.
One of the properties in this layout is considerably smaller than the other five. The user has positioned the properties on the same side and close to one another, most likely due to space constraints. You can also see a road-rail bridge intersecting the two sides of the landscape used in this model railroad layout.
You will also find that this layout features a pond on the left side, right in the middle of the hill, and surrounded by several pine trees. It can be a good model to use for inspiration, provided you have considered both the benefits and limitations of a Z scale layout.
Model railroad layouts in Z scale are extremely small. They're fantastic for creating more complicated and intriguing railways. They're just a shade longer than your fingernail in length. You can see how little that is by just glancing at your finger right now. It means that even a little coffee table can hold a lot of track.
The only problem is their high cost due to the challenges of the manufacturing process. The price affects their popularity, causing the price to rise to compensate. You may be better off with a less expensive scale if you have budget constraints
Another reason to avoid using the Z scale model railroad is that dust can easily damage it. Even minute dust particles can easily harm the train's and railroad's mechanical systems.
The N scale model railway is a wonderful option for trains, tracks, landscapes, and everything else you would need.
The N scale model railroad layout above has plenty of open spaces. The layout is stationed in a hilly area with several trees. The user has positioned a road-rail bridge at the corner of the model while dispersing five properties all over, with only two of them being close to each other.
The layout ensures minimal roadblocks for the train operator to navigate. This is made possible by the size of the N scale layout. The N scale model train is substantially bigger than smaller scales like Z and T but smaller than the HO scale.
The size of the N scale is almost half that of the HO scale. An N scale layout occupies about 1/4 the space of an equivalent HO scale layout because its size extends in all areas. You can think of it as a scale that can fit a layout that would take up 48 tables on an HO scale in a coffee table.
The beauty of N scale for large layouts is that it can pack more scale mileage into the space available. The N scale is ideal for those who prefer to run longer trains in the space available to them.
The only issue you may face with the N scale is that it is substantially larger than the Z scale, which means it will take up twice as much space. N scale is not the way to go if you want to fit the most track into the available space, whether it's a floor or a table.
The HO scale is approximately 50 percent of the O scale and 1/87 of the dimensions of the prototype. This scale has grown in popularity because it allows you to have roughly twice the layout in the same space as an O scale layout. The trains are extremely detailed, and there are numerous accessories to choose from.
The above HO railroad layout is an all-in-one Ho scale layout because it has everything needed in a workable layout. It includes but is not limited to the scenic mountains, bridges, and tunnels featured in the model layout.
The user has mounted properties atop a hilly area and perfectly aligned them next to each other, just like they would in the real world. The mountains in the background give it a stunning look, while the tunnels add utility to the model.
If you're an expert modeler, HO allows more flexibility for you to flaunt your skills. As technology advances, the HO scale's size provides yet another benefit: it's easier to squeeze circuitry into HO scale trains than it is in N scale trains, allowing for features like sound effects and Wireless control. If you enjoy trains and know you'll stick with the passion and have the space, HO scale is the way to go.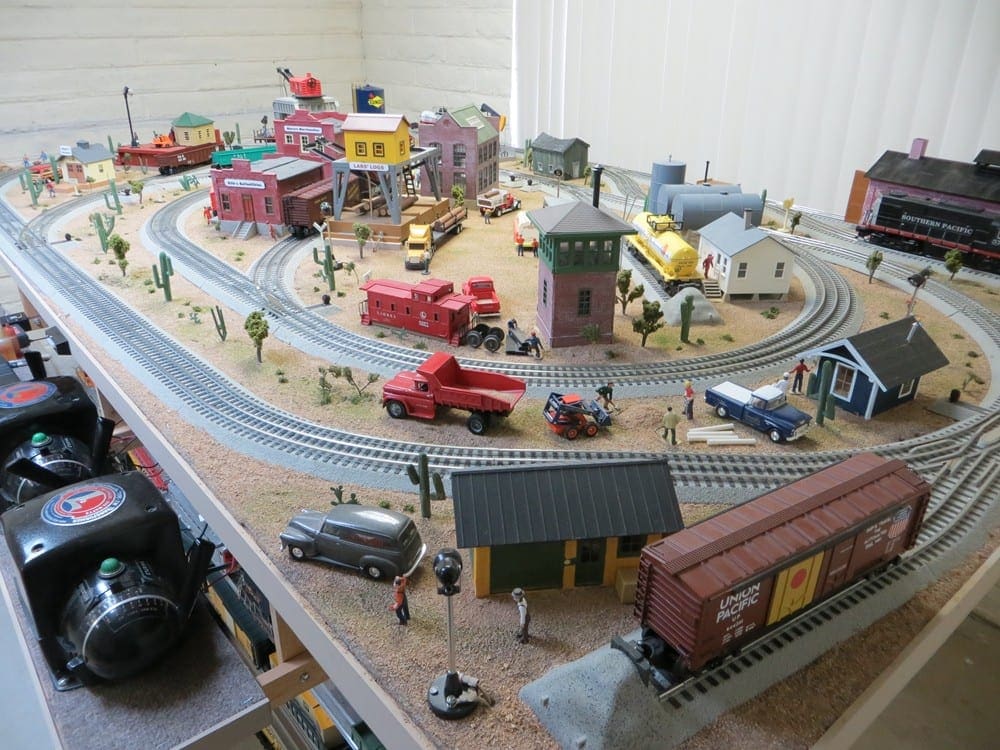 The Lionel train company made the O scale, which is their most popular scale to date. It's a 1/48 scale replica of the prototype it's based on. The O scale is a size that falls somewhere in the middle. On 4'x6′ or 4'x8′ bench work, many fascinating layouts can be created.
The O scale model above is positioned within a steam-engine era industrial setting. The layout features a steam-engine train and classic cars dating back to the times of the Second World War. The model also showcases a Union Pacific carriage and several properties that include warehouses, factories, and oil tanks. The model provides a lot of space to accommodate several features of a model railroad.
The o gauge's biggest advantage is its size. You will have more room for elaboration due to this. Trains in smaller scales are not quite as detailed as those in the O scale. Your model railway landscape will suffer with smaller-scale trains.
I've seen some amazing model railroad layouts that have used the O scale, with stunning highlands, taller buildings, and longer and more effective passageways. Your crossings will also be more eye-catching with an O railroad layout
The only con associated with this scale is that you won't take long to realize that the same structures appear over and over when you see O scale layouts in magazines and online publications. This scale offers a fewer selection of structures than some other scales, like the HO scale.
G scale railroad model is also known as a Garden scale layout. The scale is ideal for setting up in a garden and using outside due to its size.
G gauge trains have only one shared feature: their track width. You can scale the trains individually from one ratio to another due to differences in the construction of G scale trains. You can choose to create your models on a slightly bigger scale but this will result in a narrower gauge track in comparison to the model's size.
The G scale railroad model above showcases a cargo train passing by houses located in a remote area and through an area covered by limestone railroad ballast and having wild plants on one side. You can also see a windmill in the background. The model is a perfect example of narrow gauge modeling for which the G scale is ideal.
You can also use G gauge trains to apply outdoor garden railroads. You'll notice that the railroad and structures durable enough to withstand all types of weather throughout the year. You can also store the model trains inside for protection and security when you're not using them.
You can build garden railroads using very different techniques rather than indoor model train layouts. Grading the right-of-way, cabling, and landscaping take on new meanings. You might also face additional issues that most indoor railroaders ignore, such as corrosion and animals.
There are numerous benefits to garden railroading for you despite these additional hurdles. It marries all of the fun of model trains with landscaping as a hobby. A garden railroad is a unique home addition and discussion piece for you and your buddies who love spending time outside. You can, of course, use them equally effectively at home inside.