You don't need an entire room for 3×6 N scale layouts. That's the beauty of this specific layout it can fit in even the smallest spaces. But that doesn't mean you won't have enough room for your creativity. Because, aside from the small size, 3×6 N scale layouts are popular for their flexibility.
See the great model railroads you can create with these 3 exceptional 3×6 N scale layouts!
N Scale 3×6 Layout with Mountain Scene
This layout boasts a majestic mountain and tunnels. Now, all it needs are a few buildings to fill up the scenery. It fits on top of a table, so you won't have a problem finding a space for it to fit. If you plan to move in the future, worry not, because it can fit easily at the back of a truck or minivan.
Full View 3×6 N Scale Layout
You may think this layout is bigger than 3×6, but it actually follows that exact measurement. It uses Woodland Scenics 2% Risers for the incline, making the tracks fit perfectly in the small space. The huge and realistic foliage also plays a part in making this 3×6 N scale layout look bigger than it is.
3×6 N Scale Layout with River Scenery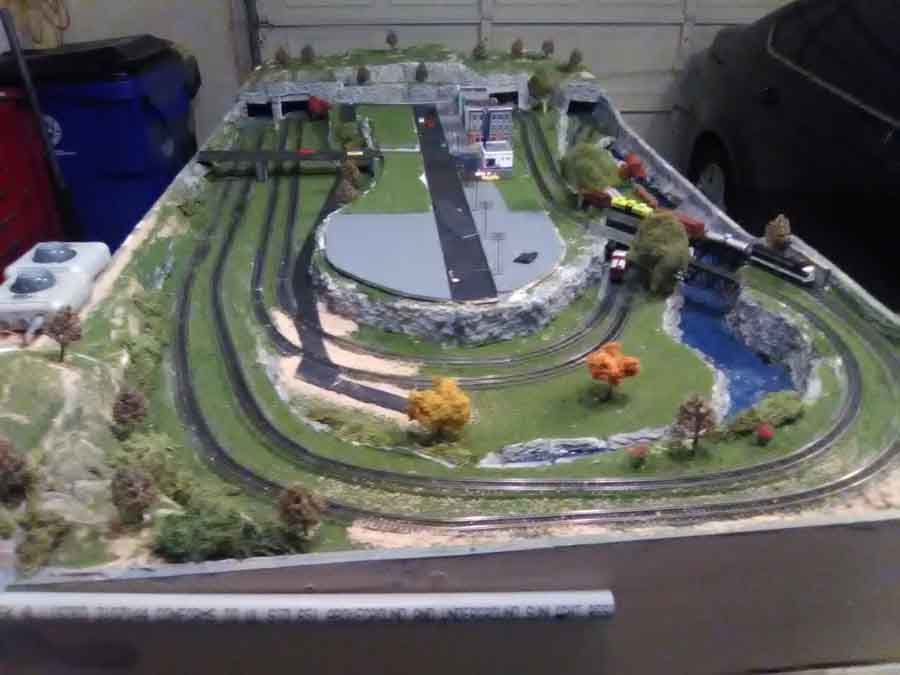 One way to give life to your 3×6 N scale layouts is to add bodies of water. In this layout, you can see a river flowing under a bridge. Surprisingly, this was simple to make. The modeler just used clear Elmer's Glue. The scenery also has tons of variety with buildings, rock molds, and trees.
N Scale Christmas Train Layouts 3×6
A Christmas-themed layout is a good choice if you want to build a railroad train layout that stands out aesthetically. This particular layout inspiration runs one N scale locomotive that has a couple of road crossings and is set on a winter town.
You can take it up a notch by adding traditional Christmas details to the N scale layout plan such as woodland scenic figures, pine trees, lots of snow, tunnels, and a mountain backdrop. The addition of night lights can mimic the look of stars during nighttime.
N Scale Unique Layout 3×6
If you are looking for N scale logging layout on a 3×6 size, this inspiration is for you. This 3×6 N scale layout features a simple oval track with a couple of sidings. This can be set up on an office table or a coffee table, whichever is available. The secret to achieving the traditional logging layouts aesthetic is with the addition of several industrial buildings along the track itself.
Want to get more N scale layout ideas? Check out a super realistic 3×5 N scale layout when you read the article Jayson's 3′ X 5′ Outstanding N Scale Model Train Layout or 4×8 N scale layouts.